~ Two Special Guest Choirs ~
WORLD VOICES and LAND of LAKES CHOIRBOYS
~ Momchil MLADENOV of The Suzanne Farrell Ballet as Prince ~
~ KENWOOD SYMPHONY ORCHESTRA, Yuri Ivan ~ Music Director ~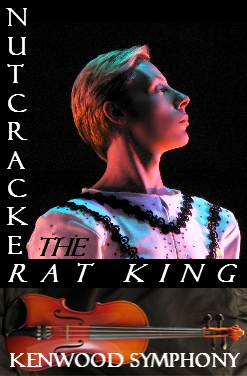 Premiering: 2007 Minneapolis ~ Based on "The Nutcracker and the Mouse King" by E.T.A. Hoffmann.
Music by Pyotr Tchaikovsky
Choreography by Artistic Director Erik Sanborn. Special Guest Choreographers: Chinese ~ Shen Pei (CTC's The Monkey King), Mother Ginger ~ Justin Leaf (Broadway Bound and Gagged) and Russian ~ Slavko Billy (Ukrainian Dance Company).
~ A Feast for the Eye and Ear ~


"An exciting way to experience Nutcracker that unites the talents of a professional ballet troupe, full symphony and two world class choirs! New Nutcracker "lives" in the halls of NORTHROP ~ A great holiday experience for all ages that celebrates the works of Tchaikovsky and author E.T.A. Hoffmann with excitement and global meaning." ~Erik Sanborn, Artistic Director

Special appearances by WORLD VOICES, Karle Erickson ~ Artistic Director
Land of Lakes Choirboys, Francis Stockwell ~ Artistic Director

~ A Fresh New Twist ~

Tchaikovsky's score brings Hoffmann's tale about Marie to life with both resolve and curiosity. Following a holiday celebration Marie falls asleep and in her dream the Mouse King and the smallest rat are battling with soldiers. The Mouse King stabs the Nutcracker Prince in a fit of jealousy and tricks Marie into thinking he is the Prince taking her off to a faraway place. The Prince, clear in what he wants, turns to the smallest rat for help. Can one rodent, regardless of might elect a different path and bring Marie and the Prince together while uniting all in the world of Marzipan Sweets? Who do you suppose Marie meets when she awakens? A great holiday experience for the whole family with a fresh new twist!

Starring as the Prince we welcome Momchil Mladenov (principal dancer with The Suzanne Ferrell Ballet), Violeta Angelova as Marie and Justin Sherwood (pictured) as the Smallest Rat. Photo courtesy of Roanna Metowski